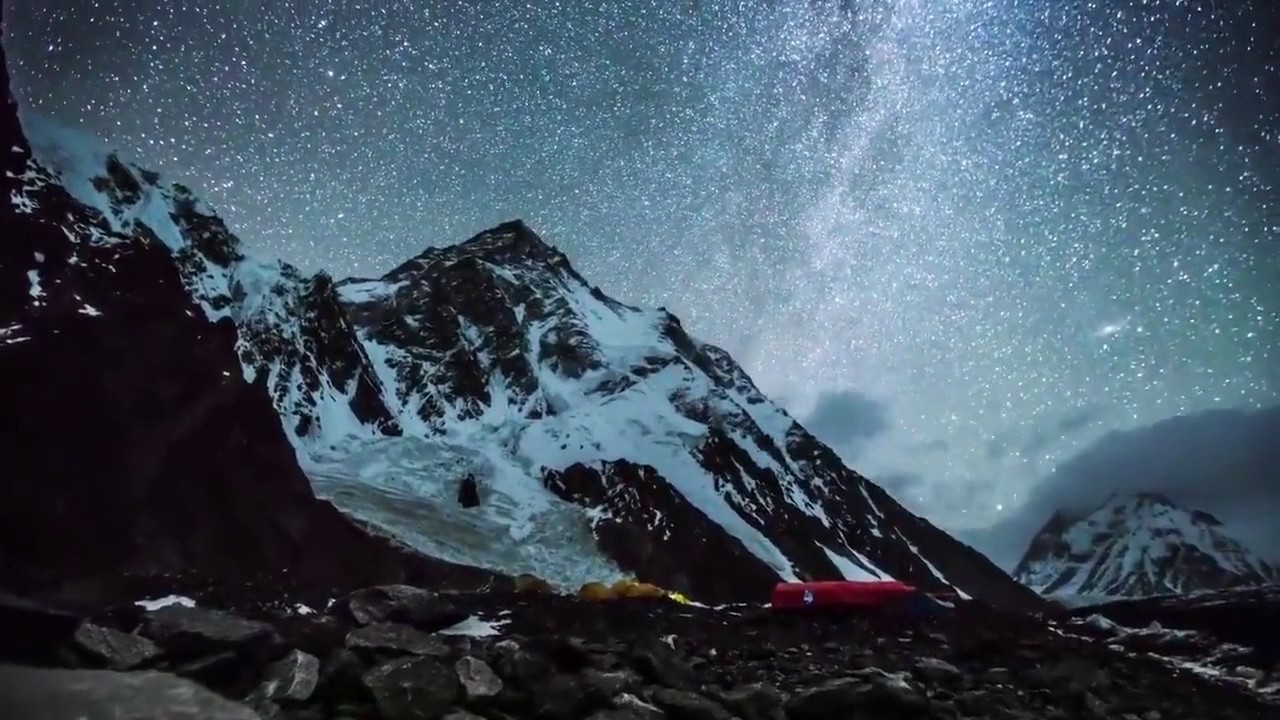 TO IMPROVE ROAD and airfield, guidance, SAFETY, AND EFFICIENCY,

key

pavement markings MUST BE VISIBLE IN ALL WEATHERS and painted markings are NOT!

lit

LEDline® guidance safety lighting,

is Visible In Any Weather

so improves

guidance, safety, and efficiency

anywhere

!
Lit LEDline® Guidance Safety Systems; Helps Increase The Safety And Efficiency of Roads and Barriers Especially In Bad Weather!
From the Above Video, The following Pictures Illustrate Just How Useful LEDline® Safety Guidance is In Providing
Key Driver Guidance
In Bad Weather: Notice:
Because of the heavy sleet and snow, typical winter storm visibility in Ontario, unlike the lit LEDline® safety guidance,
there are NO painted pavement markings visible
!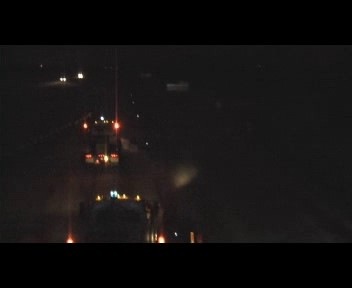 Below, the LEDline® safety guidance is clear and visible,
but there are no other visible pavement markings
!
Indeed, visibility is so bad here, that even with the vehicle's headlights on and the red tail lights of the vehicle ahead lit,
one can still hardly see the vehicle ahead
!
Below was the visibility when the "
daylight arrived
".
NO one
co
uld see anything of the painted road markings!
(Note: In these daylight pictures of road visibility, the LEDline® safety guidance lighting was not installed in these sections of the road. If it had been, they would have been visible,
as LEDline® is even visible
in bright sunlight, never mind in these conditions
).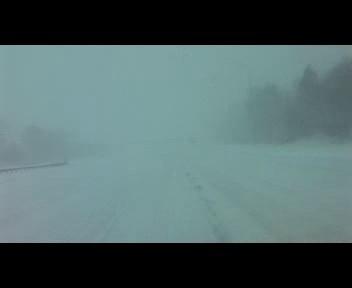 Rain, Dust, sleet, and Snow

Can Make painted Lane Line markings, reflectors and even signage,

Impossible to See

.

at night, the lack of visibility of painted markings and lane lines in bad weather is even more of a problem for drivers!

Visibility in all weathers,

is why LEDline® safety guidance lighting should be considered for

critical lane markings on difficult road sections. and,

It is why LEDline® should be used for

the lit lane lines at the high accident

or potentially high accident areas, such as merging freeways

.
The picture below is from the video and is a reminder that even with a vehicles headlights full on,
sometimes
there are NO visible road lane lines or other visible markings to guide one.
Here, all t
hat one can see is the LEDline® safety guidance lighting, and, occasionally, the vehicle ahead's red tail lights.
Visibility You Can Count On:

Solid, Linear, LED LEDline®guidance safety lighting,

are the only LED safety guidance Lighting Systems

that melt snow

without needing any additional heating elements

!
From The Anchorage International Alaska Test: Early Style Linear LEDline®, (with only 6 x LEDs) Melting the Snow.
(Note: Today's LEDline®, has 12 x LEDs and precision optics, embedded within the solid clear matrix).
safety guidance lighting LEDline® Road Usage:
Visible in all weathers, (

it melts snow

), LEDline® safety guidance lighting, helpS TO reducE accidents and is used for;
• highlighting in-road and barrier markings

in any weather

;
• nighttime

highlighting and floodlighting

the users of pedestrian crossings

;

• lit in-pavement wrong way guidance safety lighting, directing and highlighting of the

wrong way on roads

and the

wrong way on to freeway access

ramps

;
•

traffic signal controlled in-pavement

traffic

guidance

at complicated SPUI's or

intersections;

• lit in-pavement

road signage;

traffic

merge arrows or Gore area outlines

;
• for contraflow situations; lit MUTCD LEDline® safety guidance RPMs,

highlighting no passing lanes when

opposing traffic is using them;
•

lit in-pavement traffic guidance direction at Roundabouts or other in-pavement road guidance applications;

•

highlighting road markings to reduce

accidents,

at repeat high accident sites.
•

reducing traffic congestion in

contraflow situations.

• For rush hours; to access the spare capacity of the other side of the Chesapeake bay bridge,

the Maryland DOT will be Using in-pavement LEDline® safety guidance, as lit rpms per the MUTCD.

•

this lit, highly visible LEDline® safety guidance systems, are used for marking the no passing lane when oncoming traffic will be using it.

• to access the spare capacity of the Chesapeake bay bridge for contraflow purposes.
Using in-pavement LEDline® safety guidance to mark the Chesapeake Bay Bridges Contraflow Lanes
can be done very in-expensively and almost immediately
, by highlighting the other sides' infrastructure when opposing traffic is to use the spare lane capacity there.
The LEDline®'s safety guidance lighting cost there
is a small fraction of the cost compared to building additional Chesapeake Bay Bridges and widening the approach freeways there
. In addition,
when the increased road and bridge capacity there is achieved in a few months
compared to necessary; public information campaigns; the design of the new infrastructure; completing the required environmental assessments; the budgeting and accumulating of the funds; the permitting;
and the then the actual construction,
the 10-20 years needed to build new Chesapeake bridges and freeways;
LEDline® safety guidance lighting is far, far faster, and far less expensive
!
The Chesapeake Bay Bridge Area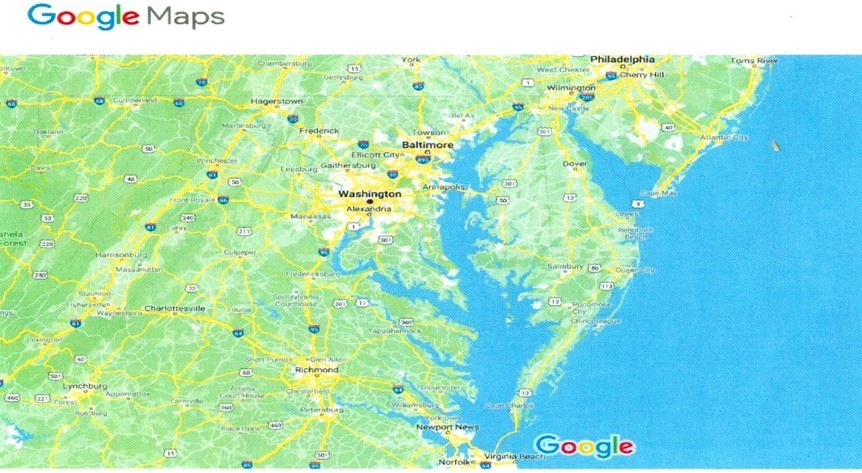 The Pictures Below are From a Television, (so their quality is not the best), However, they Illustrate the Sort of Magnitude and Potential Costs There, of Having To Build More Bridges, More Approach Freeways To Widening the Chesapeake Bay Bridges to Achieve more Road Capacity There. In Other Words;
Why Does The LEDline® Option Cost So Much Less!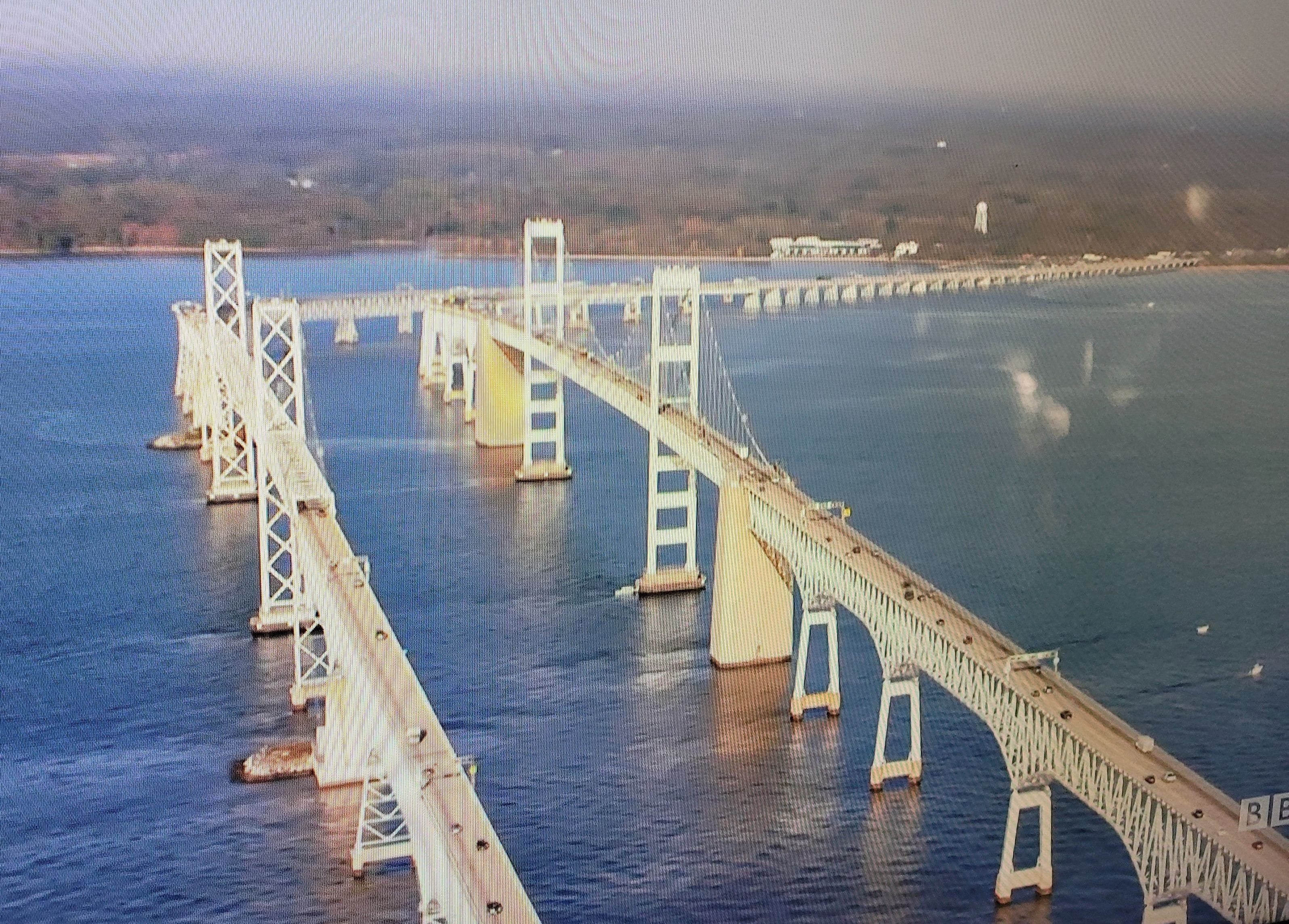 Using LEDline® at The Chesapeake Bay Site, Is So Much Quicker and is So Much Less Cost, as It Immediately Increases the Road Capacity There,
Without Having To Wait To Build More Bridges or Widen the Approaching Freeway Roads.
In other words,
the Maryland Department of Transportation, (Maryland DOT) can, almost overnight, increase the Chesapeake Bay Bridge's capacity at a fraction of the cost,
compared to building new bridges and widening the approach roads there. In essence, using LEDline® eliminates all the massive budgeting requirements for such huge construction projects;
-- i
t removes the +10 - 20 years of hassles of getting the public on to the side of the construction (if ever); -- it eliminates all the environmental studies having to be done for such projects and they're inevitable opposition law suites about it; -- using LEDline® significantly simplifies all the necessary paperwork and permits; --
from a drivers perspective, it should significantly reduce traffic congestion and wait times there, to cross the Chesapeake Bay. And, b
y reducing these driver wait times;
Maryland will be reducing the pollution, wasted gas, and wasted driver times,
and hopefully, eliminating the frustrations created by the stalled traffic going nowhere.
Proof of LEDline® safety guidance lighting visibility in all weathers:

the picture below is a Direct Visibility Comparison in deep snow at an airport between; faa approved Airfield Taxiway Lights

and Linear LEDline® safety guidance visual aids
This Third-Party Picture, by Mr. Chas Triborn, at Anchorage International, is A Direct Com
parison of LEDline®'s Safety Guidance Lighting Visibility In Deep Snow Compared To FAA / ICAO Approved Airfield Visual Aids.
Left:
Is the old style FAA incandescent bulbed, (more heat than light), standard green taxiway in-pavement lamps.
Right:
Is the old-style
6 x LED
, (today's LEDline® has 12 x LEDs or more), in-pavement, yellow linear LEDline® lamps;
• b
oth are highly visible in the deep snow.
•
and, since both lamps melt snow, both are self-cleaning
and remain visible in bad
weather
.
Unless otherwise stated, all Pictures, Videos, Files, and Texts are the Copyright of HIL-Tech Ltd.
LEDline® is a Registered Trademark of HIL-Tech Ltd.